Understanding Google Analytics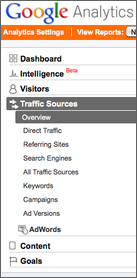 At Two Degrees Marketing, we collect every single bit of information possible about every visit to your website, and turn our data into actionable decisions by evaluating data through business metrics that matter most to you. We provide you with the necessary tools to evaluate your traffic and Internet marketing goals with insightful training and customized reports. We help you understand Google Analytics, allowing you to act upon timely data creating a plan that succeeds both for you and your users.
Understanding the basics of Google Analytics gives you information about why people come to your website, what brings them to your website, how long they stay on your website, what pages they view, what pages are affective, what keywords drive your traffic and what sites are driving traffic to your website.
Improve Metrics & Grow Your Business
It is vital to identify, understand, and improve the metrics that impact your business; this is why it is important to understand the data you find in your Google Analytics account. You may at this time choose between the standard Google Analytics interface and the new version of Google Analytics. To enable Social Tracking we must update your Google Analytics code to the new version of code that supports social tracking. We provide a brief overview the data that Two Degrees Marketing provides to clients in you customized reports:
Information about visitors, pageviews and page visits, bounce and exit rates, and average time on site
Visitor trends
What keywords are driving traffic to your website
What is your direct search versus browser organic search
What traffic sources are providing the most stickiness
What content is most relevant to your users
What content has the highest bounce and exit rate
What does your website sales funnel look like
We set up filters so we know the traffic we are measuring is unique visits
We set up goals for your website and sales funnels so we can measure goal achievement and make changes accordingly
We measure social metrics: such as how much traffic your blog, Twitter, Facebook and LinkedIn page is generating in traffic
We analyze how you website is ranking for targeted keywords compared to what keywords are driving traffic to your website
We take all of this data and distill in into easy to understand information that will guide us to making timely decisions that positively impact your profits of your company.