SEO & SEM Terminology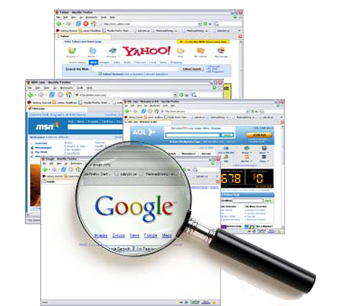 We have put together a glossary of SEO and SEM terminology to help our clients and potential clients understand SEO and SEM terms we use in our evaluations and monthly reports. By no means is this a complete list of SEO or SEM terminology, but a reasonable sampling of current terms that we will continue adding to as time permits:
#301 Redirect: Moved permanently; the file has been moved permanently to a new location. This is the preferred method for redirecting for most web pages, it may take from a few days to a month for the 301 redirect to be detected based on your sites crawl rate.
#404 Page Not Found: The server is unable to locate the URL due to a variety of reasons.
A
A/B Testing: A/B Testing is randomly showing a visitor one version of a page either version A or version B and tracking the users behavior based on what version they experienced.
Above the Fold: A term used to describe the average size of real estate on a web page viewed on an average monitor without scrolling the webpage. Web pages are divided into header, banner, body, and footer areas; through heat maps we can detect what part of your page is getting the most attention from users.
Absolute Link: A link showing the full URL of the page being linked to, compared to a relative path with the HREF tag. Sample: <a href="http://www.twodegreesmarketing.com/capabilities/SEO">SEO </a>
Adsense: Part of Google's ad network allowing publishers large and small to automatically publish relevant advertisements near their content and share the profits from those ad clicks with Google.
Adwords: Google's ad and link auction network. Most Google ads are keyword targeted and sold on a cost per click basis; their system allows you to set your maximum budget and bid on the keywords that fit your niche.
Affiliate Marketing: Affiliate marketing is a process of revenue sharing allowing merchants to maximize sales efforts by enlisting the help of other websites as an outside sales force. Successful affiliate marketing programs results in merchants attracting additional buyers and the affiliate earning a commission or referral fee, based on click-through from the referring website.
Age: Some social networks and search engines may take into account age of the domain name, website, page age, user account age, and related historical data in determining what sites, people, authors, or document to trust.
Algorithm: A set of rules that search engines use to rank listings in response to a user's search queries.
ALT Text: This term is also known as alternative text or an alternative attribute. An ALT tag is used to provide images with a text description; a good SEO practice, allowing search engines to pick up keywords associated with images on your webpage.
Analytics: Software that allows you to track page views, bounce rate, time on site, exit rates, user paths, conversion rates, traffic sources, visitor trends, through a JavaScript tracking code inserted on your website.
Anchor Text: Keywords used to link to a webpage, these are known as anchor text, an important signal to search engines to determine page relevance.
Authority: This is the ability for a page or website to rank well in search engines and is dependant on five main factors, link quality, site age, traffic trends, site history, and the publishing of unique, original, and quality content.
B
B2B: This term stands for business to business, a business that markets its products or services to other businesses.
B2C: this term stands for business to consumer, a business that markets its products and services to consumers.
Backlinks: Please also see inbound links. Backlinks are links pointing to a particular webpage.
Ban: This is also known as delisting and refers to the punitive measured taken by search engines in response to spam or "black Hat SEO techniques".
Behavioral Targeting: Ad targeting based on past recent experience or searches. We see this type of targeting both in search queries or from online stores that show you products other people have bought based on your searches.
Blog: A blog is a frequently updated journal intended for general public viewing, usually representing the personality and views of the author or website. Many blogs provide an archive and categorize information and also can provide a subscription or feed, and allow user interaction, such as leaving comments to blog posts.
Bookmarking: Most browsers have the ability to bookmark pages, but many web-based services have been created to allow you to bookmark your favorites and share your favorite resources. The popularity of a page, measured by link equity, number of bookmarks, or usage data is a signal of the quality of the information found on the web page.
Boolean Search: Many search engines will let you refine your search queries with formulas corresponding to AND, OR, or NOT, just as Google Adwords allows you to refine searches by broad terms, [Exact], and "Phrase".
Brand: A brand is a customer experience represented by a collection of images and ideas and refers to a company's logo, slogan, name, design elements, and website.
Broken Links: Broken links can happen for a number of reasons; they are frustrating for the user and can affect your search results and page rank. There are a number of reasons for broken links, a website going offline, moving a page location, or renaming a URL and not updating the corresponding links, to name a few.
Browser: The way people use the Internet, the most popular being Microsoft Explorer, Chrome, Firefox, and Safari.
Buzz Monitoring Services: Services that email a client when a product, company, person, or keyword is mentioned on the web. There are many companies that charge a fee for this service, but Google Alerts is free.